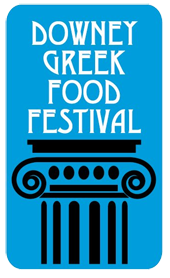 Our Annual Downey Greek Food Festival is attended by thousands of people.
This year's Saint George Greek Orthodox Church Festival celebrates its 33rd year. The festival will take place on the Church Grounds the first weekend in June-Friday, June 2nd, Saturday, June 3rd and Sunday, June 4th. We are reaching out to our friends and community seeking advertisements for our festival booklet. The booklet will be distributed to all attendees at the festival and will provide information on the weekend's activities, performances, menu, vendors and all our advertisers.
We hope that we can count on your support. Enclosed please find the ad application for this year for your consideration. Retain the sheet with the Church's ID# as an invoice for your records. The stapled sheets, please complete, attach your ad along with your check and mail it back to the church. If you have any questions or need more information, please contact us by calling the Church Office at (562) 862-6461. We thank you for your time and for your consideration.
Absolute deadline for ads and payment is April 30, 2017.
Please download and print the following PDF form:  2017-Ad-book